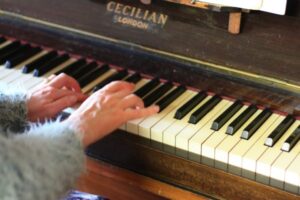 This is just an extract from the latest draft of the first chapter. The novel is to be published by Sapere Books in Spring 2019:
CHAPTER ONE
6th March 1939
The light is fading in Derby Lane and under the shadow of crooked medieval shops the surviving patchwork of warped structures is mostly boarded up, where the owners have cut their losses and left. Above my head an army of windows wafts back and forth in the breeze, hinges crying for want of love and attention. One building, a watchmaker's shop, stands out from the rest. There's a policeman outside and, in yellow paint, the word 'Jew' is plastered across its window.
The glass reflects an unflattering picture. PC Greenley stands six foot one, several inches taller than the man in the brown suit beside him, whose waistcoat swells just a little too much above his belt. A casual observer would take me, James Given, for a middle-aged bank employee. Not a police inspector only midway through his thirties. I look away.
'Another one, constable?'
'Afraid so, sir, second this week round here. The old boy's inside. Roughed him up they did, he's not hurt but is pretty upset.'
Greenley had been on his beat by the cathedral when he'd heard a commotion down this side street. Although several pairs of boots retreated along Pepper Lane in the direction of High Street, discretion had proved the better part of valour and he'd called the station from the blue box on the corner of Broadgate. I'd been getting ready to return home to Kenilworth for the night when his message came and it was passed to me. Some weeks earlier, I'd been asked to take the lead investigating these attacks on Jewish businesses in Coventry and I was enjoying the challenge. That's not to say I wasn't glad to go back to my own patch each evening when it was through.
Five years ago Derby Lane would have been packed with people walking home from work at this time, though now the general decay keeps them away. I can't say I blame them; this city can be a frightening place.
I felt my way down the dark hallway to a back room, where the shop owner, who looked to be in his sixties, was hunched in an armchair beside a dying fire. Around his shoulders was his prayer shawl, and he reminded me of my father as he fingered the knots and whispered his invocations. Out of respect I waited until he finished. When he had, he beckoned me to take a seat.
'Good evening, Mr Dembowitz, I'm Inspector Given. I'd like to ask you a few questions. Do you feel up to it?'
The fear crackled in his throat. 'Why would they do this thing? I hurt no-one. I go about my business and try to help my customers. I came to England, here, to Coventry, to get away from such things. And now …'