Coming Soon …. Where Every Man. Number 4 in the series. Pre-order now on Amazon.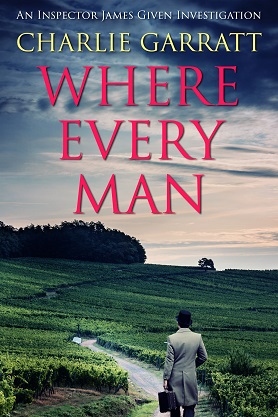 March 1940, and James Given has left his job as a detective inspector in England and moved with his wife, Rachel, to start a new life in France.
A local woman dies under suspicious circumstances, and what had first appeared to be a tragic cycling accident soon seems to be something more sinister.

When James reluctantly begins to question the locals, it becomes apparent a spy is in hiding nearby. And with the Second World War intensifying, and the terror of the Nazi's an ever-present threat, Given is unsure of who he can trust.

WHERE EVERY MAN is the fourth historical crime novel in the Inspector James Given Mystery Series – a traditional British investigation set in 1940s Europe.
Join my email list
Paperback out now … A Handkerchief for Maria … and ebook available for pre-order – on Amazon
Maria sits by the bed of her comatose daughter, Alice.
When the doctor tells Maria the young woman has only a short time to live, she begins to tell Alice family stories, some true, some not, to make sense of the events which have brought them to where they are now.
The stories begin in Wicklow, Ireland, in 1847, and span three continents, two world wars, and Maria's flight from Ireland as the country gains its independence.
A Handkerchief for Maria is drawn from real lives of ordinary people in extra-ordinary circumstances.
A life-affirming family saga
Join my email list